How to make Almond milk; watch the video and then grab your almond milk recipe below and make it with the step-by-step video. Making your own almond milk is so super easy!
When I am putting on a workshop, speaking or lecturing I always bring up almond milk. I will ask if anyone drinks almond milk; those who have will raise their hands. Then I ask of those who did raise their hands if they make their own; most put their hands down. I am then asked how do you make almond milk? With a big grin I reply "very easily."
Almond milk is the easiest recipe to make and once you have made your own you will never purchase store bought almond milk again! What I love about making your own almond milk is you can make it thin or creamy; including making it thick enough to substitute half and half in your coffee. You can also make almond milk ice cream, and pudding.
So watch the video on How to Make Almond Milk below. It is a step-by-step video. You can grab the recipe below and follow along-I only edited about 10 seconds of the whirling of the blender. While you are drinking your super-licious almond milk check out the almond nutrition facts graphic that you can share on Pinterest or share on Facebook and Twitter. You can also learn the quick facts to almond milk nutritional value.
Almond Milk Nutrition Facts
Almond milk is a dairy-free, gluten-free vegetarian and vegan beverage that can be used in recipes and as a drink for those who are lactose intolerant. Almond milk is lower in calories than cow's milk, a good source of calcium and essential fatty acids (good fats).
I use dates that are unsulfured and do not have any other preservatives. I do not want or need unnecessary toxic ingredients in my body and hopefully you do not want this either. Dates are naturally sweet and provide a sugar that your body will recognize and use as fuel instead of, storing it in your fat cells like toxic synthetic sweeteners and sugar alternatives have a tendency to do. You can by Medjool dates in bulk as they freeze and keep well.
Dates are good source of vitamin A, iron, potassium, calcium, manganese, copper, B vitamins, vitamin K, flavonoid polyphenolic antioxidants known as tannins that are known for their anti-infective, anti-inflammatory, and anti-hemorrhagic abilities.
DIY Almond Milk Recipe
Materials you will need:
High speed blender*
1 stainless steel or glass bowl-large enough to hold 5 cups liquid
Glass jar with lid-large enough to hold 3 cups liquid
Ingredients
1 cup raw almonds
1/2 cup raw cashews (this is optional-but makes it more creamier)
3 cups water + extra for soaking
3-4 small Medjool dates (or 1-2 large dates) any date will do so long as there are no sulfites. *If you do not have a high powered blender remove date pits.
1 tsp cinnamon powder
1 tsp raw vanilla powder (you can use vanilla extract but raw vanilla powder is so much more yummy!)
1/2 tsp nutmeg powder
In a bowl add almonds, cover with 3 cups water soak over night or at least 12 hours.
About 20 minutes before you are ready to make your almond milk, add cashews to almond soaking water.
Add 3 cups clean water to blender. Strain water off of almonds (and cashews) and rinse until water runs clear; add almonds to the blender.
Add dates, put lid on blender and blend on low-to-high-speed for 30 seconds to a minute; depends on the blender. You want the contents to turn white and only small bits of almonds in liquid.
Place nut milk bag opened inside of bowl; pour contents in the blender into the nut milk bag. Squeeze slowly; squeezing out all of the liquid into the bowl.
You can rinse out the blender if you would like, or leave the little bit of pulp, either way pour liquid back into the blender; add cinnamon, nutmeg and vanilla powder. Blend on low for about 10-20 seconds. Pour into a clean jar; secure lid. Keep refrigerated. Will last 3 days in refrigerator-if you can let it sit that long..this is so good you will want to drink all of it right away.
You can add almond milk to your cereal, drink as is or use it as the liquid in your protein shake or make an awesome smoothie!
You can look for raw vanilla powder at Whole Foods or your health food store. You can also find it on Amazon click this link and it will take you to a list of products. You want the "Raw Vanilla Powder" not the "Raw Vanilla Protein Powder."
If you love this recipe check out how to make Fudge with Almonds and Coconut Milk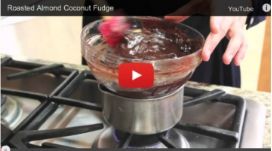 If you are interested in learning more about how to get your own high powered vitamin click the image below and it will take you to the Vitamix website. If you decide to purchase please use code 06-007630 when ordering to receive FREE standard shipping- that's a savings of $25US / $35CN