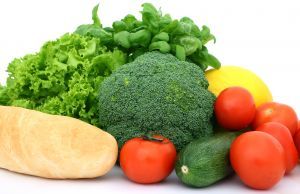 The colon works best when it is full of water and indigestible plant fibre. This means lots of whole grains, vegetables, fruits, legumes and raw nuts and seeds. The average North American transit time is 72 hours. Optimal is 12 – 24 hours The optimal body has two- to- three easy, formed bowel movements a day. Basically, one meal in, one meal out is optimal.
Cause
A diet low in fruits, vegetables, whole grains, legumes, nuts and seeds

A diet high in processed foods, refined foods, packaged and canned foods, fast foods, sugar, refined carbohydrates

These foods contribute to a sluggish bowel that can not empty properly as it prohibits peristalsis.
Effects
Constipation, slow transit time

Toxicity, gut dysbiosis, fungus, parasites, flora imbalance

Hemorrhoids, rectal fissures, diverticulitis, appendicitis

Loss of appetite due to feeling of fullness from stagnation

Lowered insulin levels leading to binge eating even though digestive tract may feel full and stagnant

Elevated glucose scores

Weight gain, distended abdomen

Varicose veins

Tendency to form gallstones

Colorectal cancer
Balanced insulin levels – reduction or elimination of binge eating

Helps raise metabolism

Regulates blood sugar levels decreases hypoglycaemia symptoms

Weight loss

Speeds up transit time

Reduces excess circulating estrogens

Reduces circulating toxins
Recommendations
Choose a variety of plant foods, vegetables, fruits, legumes/beans, nuts, seeds and 100% whole grains

Replace meat with one-to-two vegetarian meals per week

Choose foods with natural fibre not added or fortified fibre. Generally when fibre has been added, other additives are included to make the fibre stick and bind and to increase shelf longevity do you really want that sticking in your gut?
Introducing fibre must be done at a slow pace. If you are used to consuming a diet low in fruit and vegetables your digestive system will be sluggish because there was no need for it to work hard as the food was void of fibre. Do not add in beans and legumes until your body is past the bloated and gas stage as beans and legumes are fibrous and need good digestion. Symptoms of bloating, gas and possible constipation indicates the digestive system is being forced to work again. In time this will go away. Once it does you will feel great with loads of energy and vitality-you will never want to go back to your old sluggish way!
Check out these great articles:
How to Lower High Blood Pressure Naturally: fiber. water and salt